Snif ! _ It's my last day here, at the INDAF festival. I had great time with all the people who worked hard to let this event exist. Not enought Staff, but very very comprehensive and kindly. So, my last day begin with a old Korean tradition. People ( usually women ) prepare a paste taking from the powder of flower ( I do not remember the name ). It produce a very bright orange humid substance. They envelop the tips of their fingers with this substance for 4 or 5 hours. After remove and clean this substance … the fingertips and nails are stained with the bright orange for more than three months. If the color persists until the first snow, well, their wishes will happen. Sun ask to me, to try it on one of my finger . . . so, I will keep with this orange finger for the next 3 months, hoping that my wishes happen . . . hi !
The final result _ Orange lucky finger !!!

After, because I had the day off, I asked Gia to bring me to an industrial district. So, I took time to shoot lots of beautifull video for my next project. We went after to Seoul at an old water treatement usine that was converted in a beautifull parc with lots of Nenuphars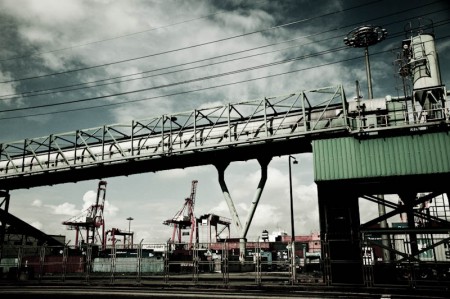 And everything finish in beauty with friends at a very good korean restaurant.
Santé !!! Seungho Hong[flv]http://blog.kolgen.net/wp-content/uploads/2010/09/Seungho-Hong.flv[/flv]